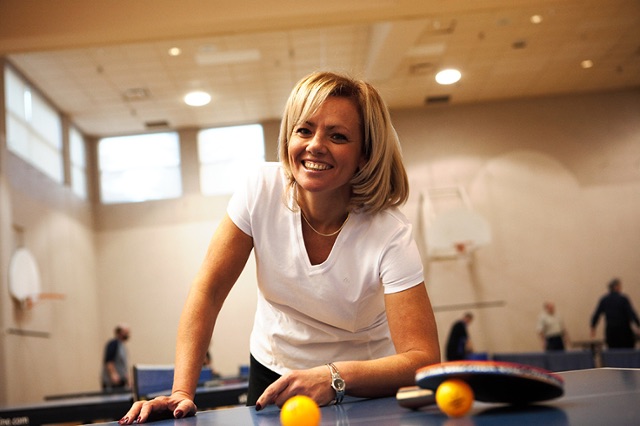 Our club was founded in 2002 by Ms. Elena Shkrab, a professional table tennis player and National Champion of Ukraine and Israel, was a top player in the former USSR as well as a finalist in European Championships. Elena has over 35 years of coaching experience working with children, youth, and adults and table tennis is her lifelong passion! Elena's unique coaching style is proven to be successful to raise many generation of players, and even beginner players show noticeable improvement within a short period of time. Ms. Shkrab also offers coaching on the Corporate workplace and consults for the development of table tennis programs.
Whether you are a parent who is looking for an activity for your child or would like to learn table tennis yourself, Top Spin is the right club for you!
Coaching is for life
Coaches should first and foremost be educators.
Elena shares her story and the impact her early coaches had on her successes through the lessons they taught. She is now passing these lessons on.
"Coaching Life" Australia's #1 Coaching magazine
https://issuu.com/coachinglife/docs/coachinglife_-_education/5
Top Spin is proud of its brand new professional table tennis facility, dedicated exclusively to table tennis, with brand new International Table Tennis Federation (ITTF) approved rubber flooring and exceptional lighting. The highest quality professional level table tennis equipment available to meet the needs of players of all ages and levels, from those who play for recreation to high professional level players. Our goal is to make the experience of playing table tennis as pleasurable as possible for our guests.
When you visit Top Spin you will be able to enjoy:
12 Professional table tennis tables
Rubber floor especially suitable for table tennis
Locker room with lockers
Washrooms
Shoes and rackets available for rent
From play, coaching and tournaments to birthday parties, camps and corporate events, and is entirely dedicated to meet all your table tennis needs!
Please don't hesitate to contact us for any questions or inquiries.
We look forward to seeing you at our club!